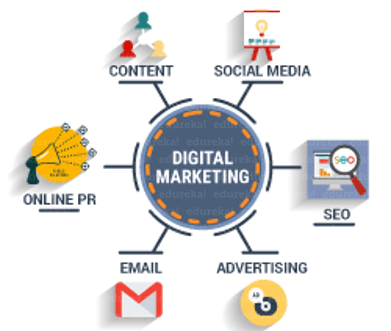 Choosing the best Digital Marketing Channel for your Business
With the advent of internet, the new media, everybody has become solely dependent on this. In every step forward there is a need for internet. It's the provider of any and every information – be it for a store, a product, a service or any general ones. Internet is fulfilling our needs in every possible way.
Now, as for businesses also, internet gives the most convenient and effective method for marketing, which is called by the name of digital marketing. It means, you will be able to market or advertise your product through various digital platforms. People nowadays are more active on the internet rather than on any other medium. Also, because of the interactive feature of internet, you can best connect with your potential customers which can give you a marvelous positive outcome.
Just as traditional media marketing, there are several channels to choose from, digital marketing also includes various ones. now , this depends on you that which one will you choose. This decision should be made with utmost care; because wrong channel can break the potentiality of your business to the customers.
Before making the final choice, analyze the digital marketing channels, such as, Facebook, SEO, LinkedIn, Youtube and many more. Now, let's take a closer look to all the channels to understand their strengths:-
Facebook
Facebook is the most popular and the easiest channel among all the digital marketing methods. It is very much interactive, it is used by millions and billions of users around the world of every age group, which makes it easier for the business owner to target a huge number of audience, at once. Facebook has an easy advertising interface where you can start campaigning your product real quickly and swiftly. Even you can also determine that if your target market is present there on Facebook or not by a simple process of opening 'Facebook Ad Interface'.
SEO and SEM
Search engine provides the users with ample amount of information on everything and the most important pat is, it takes less than a second to find out the result of the relevant searches. This user friendly approach of Search Engine Optimization can be used for your business, but you must know that your target market uses this feature of internet. Search Engine Marketing allows you to run ads on specific key phrases relevant to your industry. Once you do that, your site will show up on top of the search results in the featured listings.
YouTube
Video ads are always very effective for the users to engage towards your business and brand. The advertising platform of Youtube helps to target the audience on the basis of their location, demographics, interests and devices.
Additionally, internet has another useful feature of marketing, which effectively helps in marketing your product. Re marketing – this helps in targeting the people who had shown interest in your business previously. For example, I was searching for a Dungaree for quite some time on Shoppers Stop, but i did not buy it. So they kept on showing me the ad for next few days on my PC, also it provided me with the information of Flat 50% off on the product which led me towards buying that. So, this method is a real useful one.
But before using any or each one of the above mentioned platforms, first determine who are your target audience and if they are present on the channel or not. After that, choose one or more channel wisely and start marketing your business effectively.